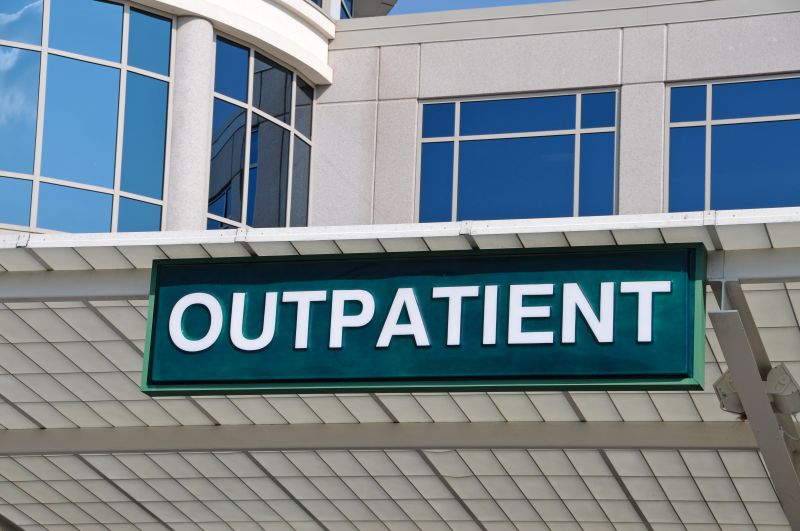 You've suffered from chronic hip pain for a long time. Injections, physical therapy, and medications have all been tried and no longer relieve the pain. You explored options with your doctor and have agreed that hip replacement surgery is right for you. So, can you benefit from the outpatient hip replacement option?
What Is the Difference Between Inpatient & Outpatient Surgery?
In past decades, people would be admitted to the hospital for inpatient surgery and could remain there for weeks. Then specialists realized that patients recovered more quickly at home than in a hectic hospital setting.
Surgery is considered outpatient when a patient has surgery and goes home on the same day. As a result, the patient is not admitted into a hospital for a lengthy stay. For inpatient surgery, a patient is admitted into a hospital for an overnight stay or longer. The surgical plan is in place in advance and approved by the surgeon. Some patients with specific health conditions may require inpatient care and stay an extra day or two for monitoring.
What Are Some Advantages of Outpatient Surgery?
Outpatient surgery provides fewer risks for the patient undergoing hip replacement. They are not exposed to pathogens that could cause infection, and they can also avoid infectious diseases (such as Covid-19) that may be in a hospital.
It's been proven that patients are much happier at home. A hospital is not a luxury hotel; the noise, bright lights, and food may inhibit a patient's ability to relax and get a good night's sleep. A patient may be much happier at home, where they can sleep comfortably in their quiet bedroom, eat food they enjoy, and have their pet dog or cat to comfort them.
Inpatient surgery may be more costly to you and the hospital, depending on your insurance plan. However, if you can defray some of these costs by recovering at home, it will ease the burden of your lost income and the cost of being incapacitated.
The Greatest Benefit of Outpatient Surgery
The main benefit of outpatient hip replacement surgery is that the patient will heal more quickly in the familiar home environment. In addition, the sooner the patient's hip can heal and attend physiotherapy, the sooner they'll be on the way to feeling pain-free and back to enjoying life.
As with any surgery, discuss your options with your doctor. Ask questions if you're uncertain about a procedure. Having the opportunity to heal from outpatient surgery at home may be the right plan.
Orthopedic Surgery
Are you thinking about having hip replacement surgery? Have you ever considered outpatient surgery? Discuss this choice with an orthopedic surgeon, Dr. Dan Albright. An evaluation and consultation about your specific needs will help you make the right choice for your surgery. Call 919-863-6808 and make an appointment today.