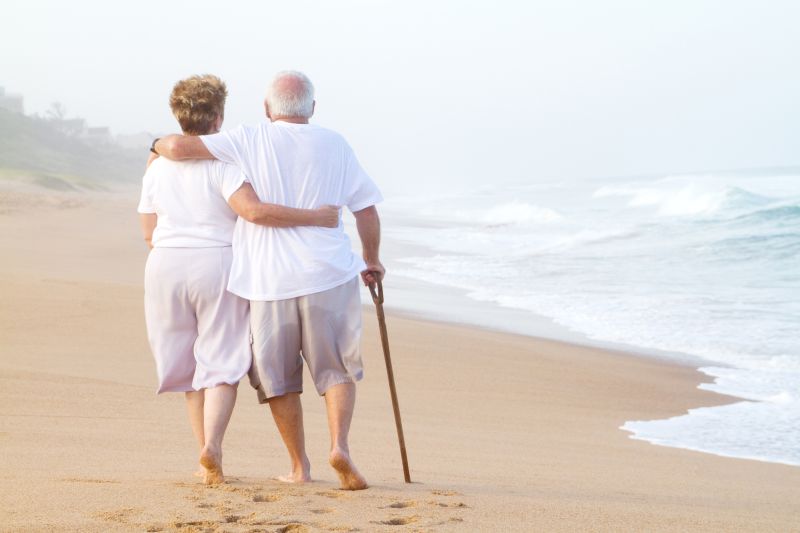 You've had hip replacement surgery,
and because you have been exercising as your doctor ordered, your mobility is increasing without pain. So, when will you be able to take that trip to celebrate your new lease on life? Some planning is involved, and various things must be considered, but traveling is definitely in your future.
Before going,
you should get approval from the orthopedic surgeon who treated you. In general, they want you to wait six weeks before flying. If you use a mobility device (i.e., walker or cane), you'll have to be prepared to deal with that at the airport and on the plane. Let's look at what to expect when traveling after
hip replacement surgery
.
Going Through Security Screening While Traveling
With increased security at airports and the fallbacks that come with it, there are still ways to ease the frustrations about traveling with a hip replacement. Will the artificial hip joint set off a metal detector? How should that be handled?
People with orthopedic implants are not required to carry any special identification or doctor's note to pass through TSA screening. With or without this information, the screening process remains the same.
Travel May Always be a Little Bit of a Headache
A joint replacement made out of high strength metal alloy will be identified by a metal detector and seen on a body scanner. Some modern screening devices can detect metal implants, and further screening is unnecessary. In many cases, the metal implant triggers the metal detector, and a secondary screening takes place. The secondary screening is either a physical pat-down or a wand is used to ensure the metal is inside your body. Planning that security might take a few extra minutes will reduce the stress of the screening process.
If you are traveling with a mobility device (i.e., walker or cane) - these are screened at security. Canes can be placed on the conveyor belt. Ask a TSA agent about your walker. There are different types of walkers, and screening may be different depending on the style. Walkers are gate-checked, and canes need to be placed in the overhead. Order wheelchair service if that will make your traverse of the airport easier. Again, plan on your security screening to take a little extra time.
Another consideration while traveling is how to prevent blood clots while flying. The risk of having a blood clot form in the lower extremities is slightly higher for people with a hip or knee replacement. To prevent this, drink plenty of water and on a flight that is longer than four hours, get up and move around occasionally. When you do get up, take time to stretch and stand for about 10 minutes. Compression socks can also help with circulation.
Each individual has to check with their doctor about when they will be ready to travel after having hip replacement surgery. How quick you recover often depends on your health and fitness before the surgery. Once fully recovered, having that piece of hardware in your body will require a little extra time to pass through security screenings, but with some planning, and knowing what to expect, you should pass through with no difficulty.