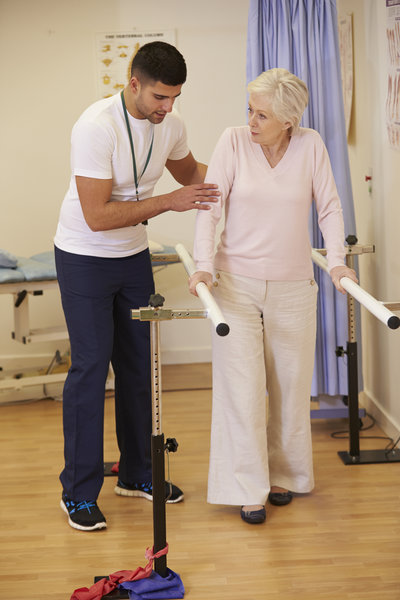 After a patient has undergone hip replacement surgery, two tools can be used to measure the function and pain the patient is experiencing. These scoring methods are The Harris Hip Score (HHS) and The Oxford Hip Score (OHS).
The Harris Hip Score (HHS)
This outcome tool is clinician-based, and it is often used to evaluate patients after a total hip arthroplasty. HHS has been revised over the years, and the scope of its use has increased; it is used to assess femoral neck fractures and osteoarthritis. It is made up of four subscales:
- Pain (44 points) – Gauges pain severity.
- Function (47 points) – Measures daily activity and gait.
- Absence of deformity (4 points) – Gauges hip flexion, internal rotation, adduction, leg length discrepancy and range of motion.
- Range of motion (4 points) – Measures range of motion.
The 10-question survey is scored from 0-100 with 100 showing less dysfunction and better outcomes.

Strengths
It is short and easy, taking clinicians 5-7 minutes to complete. Since it is not patient-reported, the HHS is free of inconvenience associated with Patient Reported Outcomes (PRO) instruments such as delayed responses or unfinished surveys.
Weaknesses
The Score is subject to ceiling effects where the highest score of the tool cannot correctly assess the patient's condition. It is clinician-based hence can be subject to observer bias rendering the outcome inaccurate.
The Oxford Hip Score (OHS)
It is a 12-question patient-reported PRO designed to access pain and function level of a patient after a total hip arthroplasty. Researchers from Nuffield Department of Population Health at the University of Oxford developed this PRO in conjunction with the Nuffield Orthopaedic Centre.
The 12 questions assess the patient's activities of daily living. OHS is also used to evaluate patient outcomes after knee operations and non-surgical interventions such as physical therapy. The assessment tool provides a single summed score that is a reflection of the severity of the patient's hip function. The Dossier Extracts section has more details about the OHS scoring system.
Strengths
The PRO is patient-reported, thus it is independent of possible clinicians/surgeons bias. The simple scoring and summing system gives an all-rounded scale for assessing the result of a total hip arthroplasty. The PRO can be filled out anywhere by the patient; it can be delivered by post to the patient or filled online.
Weakness
It is prone to PRO instruments' inconveniences such as the patient failing to complete the survey, delaying the response and question ambiguity. The OHS was designed to increase accuracy and precision in monitoring patients' outcome after total hip arthroplasty. It has minimized the use of the previous crude measures of surgical failure.
For more information on total hip arthroplasty contact Dr. Dan Albright at 919-863-6808.