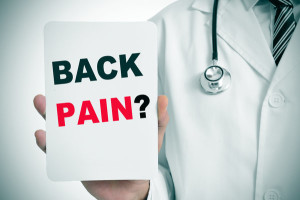 There are several different types of back pain that range in characteristics from a dull pain to a sharp, stabbing pain that radiates down the leg. It can be chronic in nature, or happen acutely because of injury. Back pain is detrimental to patients because it generally impedes daily activities.
Causes of Back Pain
Back pain can happen as a result of getting older, moving the wrong way, sleeping in an awkward position, being overweight, having a sedentary lifestyle, or be a result of an underlying condition. Whether acute (sudden onset) or chronic (progressing over time), there are several reasons back pain can occur. These include, but are not limited to:
Disk degeneration
Injury from accidents, falls, or sprains
Muscle spasms
Muscle tension
Herniated or bulging disks
Underlying disease such as fibromyalgia, arthritis, or spondylolisthesis
When to Seek Medical Attention
It is important to know when to seek medical attention for back pain. One must pay close attention to the symptoms, and if any of the following occur, it is time to speak to a medical doctor.
Severe pain that gets worse, even with rest
Tingling and numbness
After a fall or injury
Pain, along with problems with urination, weakness, unintentional weight loss, fever, or leg numbness.
Types of Treatment for Back Pain
Treatment will depend on the cause of back pain. For minor conditions, hot and/or cold presses are useful. Cold will reduce inflammation, while heat will reduce spasms and pain. Other treatments include exercises, medications, lifestyle changes, epidural injections, acupuncture, physical therapy, and surgery. Most of the time, physicians will try nonsurgical options first; however, sometimes, surgery is necessary to help the patient achieve better quality of life.
When Surgical Intervention is Needed
Surgery is necessary when the patient is in serious, debilitating pain and other treatments have failed. The following are the most common conditions treated with surgery after other treatments have been unsuccessful.
Spinal stenosis, or narrowing of the spinal canal
Fractures of the vertebrae, which can be caused by osteoporosis or acute injury
Herniated disk. When the jelly-like substance of the disk touches on the nerves of the outer disk, extreme pain can occur.
Spondylolisthesis. This is a condition where a spinal bone slips out of place.
Degenerative disk disease. This is a more complicated condition to treat because everyone will experience some form of this condition. However, if the pain is severe, then surgical intervention will be necessary.
If you are experiencing back pain and need more information, contact Dr. Dan Albright for a consultation at 919-863-6808.