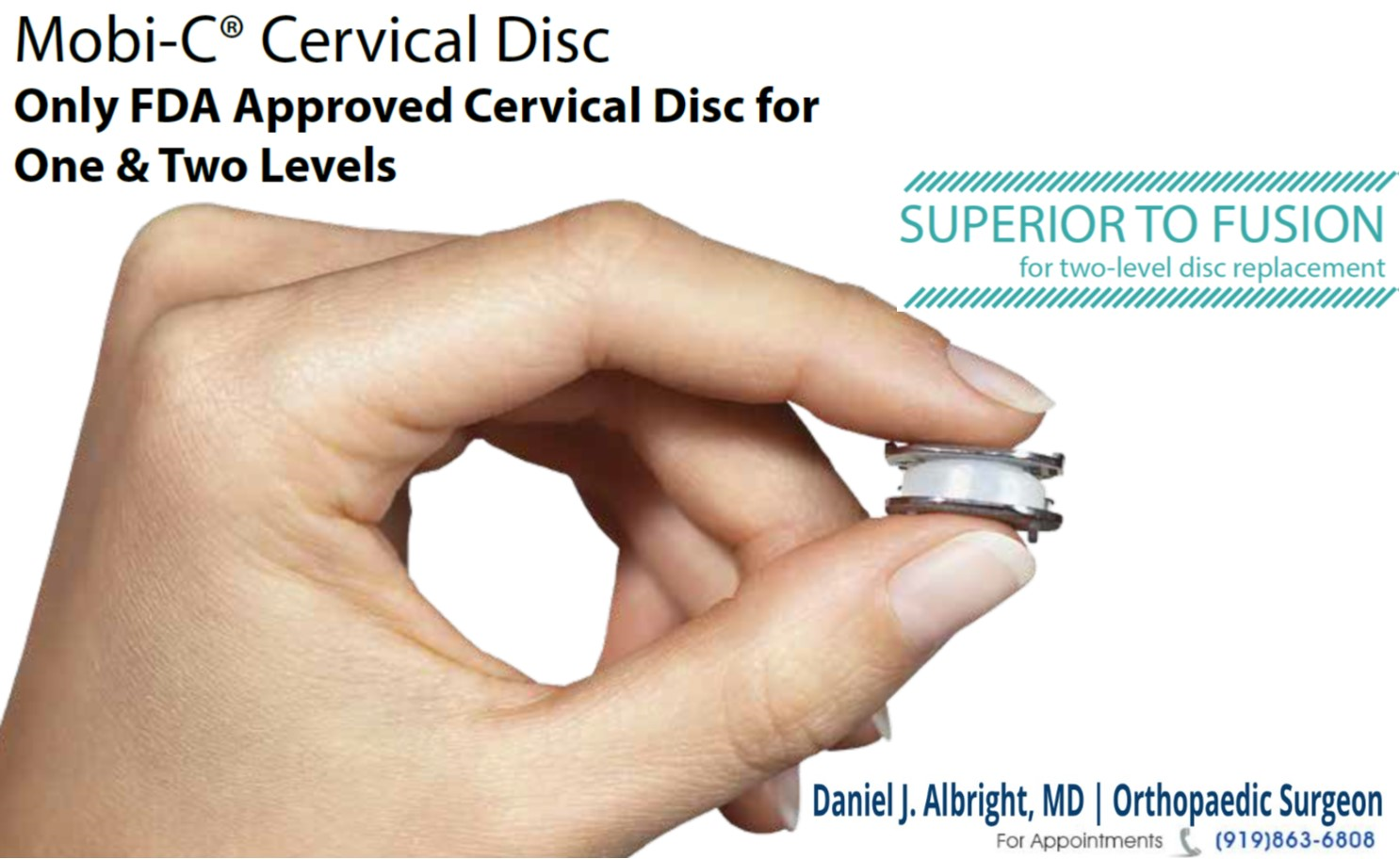 An exciting, new surgical device is now being used by the orthopedic surgeon, Dr. Dan Albright, in Raleigh, North Carolina. This device, the Mobi-C, is the first FDA-Approved two-level disc replacement used in neck surgery. Dr. Albright is the only cervical spine surgeon in Wake County who consistently uses this device.
The cervical spine has discs between each bone that provide cushioning for smooth movement. The discs and bones in a healthy neck allow bending from side to side and front to back and turning left to right. Disc problems can start from overuse, an accident, or just the wear and tear of daily life. When a disc degenerates, it can have tears or cracks that cause it to lose water, which cause it to become thinner thus providing less padding to absorb movement. Degenerated discs can also bulge (herniate) and pinch the spinal cord or nerves, which causes loss of feeling, weakness, pain, or tingling in the arms and hands.
Before artificial discs were available, patients would often receive a fusion procedure to alleviate the pain from a herniated disc. In a fusion surgery, the disc is removed, and either a bone spacer or a plastic implant is placed in the disc space to restore disc height while alleviating pressure on the pinched nerves or spinal cord. A metal plate and screws are put on the front of the neck to hold the implant in place. The result of this procedure is a segment of the neck that no longer moves, or is "fused". The potential downside of a fusion procedure, in addition to the loss of motion, is that it can create additional stress on the spine above and below the fused vertebrae. This stress can cause degeneration of those discs and potentially result in another future surgery.
An artificial disc like Mobi-C is an excellent option. Instead of a fusion, a Mobi-C device is placed inside the disc space to restore height and remove pressure on the pinched nerves. The major difference from traditional bone spacers is that the Mobi-C device is designed to allow the neck to maintain normal motion. There are no plates or screws added to the front of the neck. This device potentially prevents the adjacent discs from degenerating, possibly avoiding future surgeries.
The ability to maintain the mobility in the neck allows the patient to look side to side and up and down without having to turn the whole body. For patients, the result of a Mobi-C implant is the ability to return to many normal activities after surgery.
For more information on the Mobi-C device, contact Dr. Dan Albright at 919-863-6808.