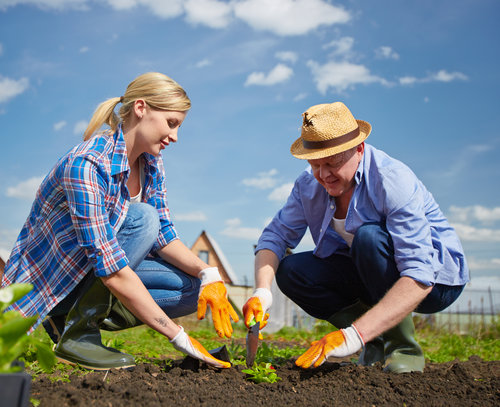 Spring is coming and it is time to start prepping the soil for your garden. Gardening is great exercise and a very relaxing hobby, but all that time bending over or being on your knees can lead to some problematic back issues. Back pain can really limit your ability to do some of your daily tasks. Here are some ways to avoid back pain so you are still able to enjoy your garden.
Be sure to rest. When you are gardening you will want to take frequent breaks and try not to take on too big of a project all at once. Overworking your muscles is certain to lead to physical strain and injury. By taking it easy and breaking up your projects into smaller units you can avoid causing some serious strain to your back. For every hour that you work, you should take a break ranging from 5 to 15 minutes (depending on how your muscles are feeling while you are working).
Ask for help. Asking friends or family members for help in your garden can help you to make progress in your garden much faster and reduce the amount of back pain that you would experience by doing it all yourself. Digging and planting seedlings can be a great task for smaller children and weeding could be a way for teenagers to make some extra money. Getting a group of friends together to work in the garden can be fun, especially if you host a celebratory barbeque after all of the hard work is done.
Switch up tasks. Hours of repetitive motion can cause painful muscle injuries that may lead to permanent pain issues. Instead of keeping at a specific task for hours be sure to change it up, allowing some of your muscles to get a break. For instance, weed out one of your flower beds, then move on to a different task like pruning some overgrowth before returning to weeding.
Everyone dreads back pain, but with these simple tips you don't have to suffer from back pain any longer. You no longer have to avoid gardening or other activities that you love due to back pain. Instead of dreading gardening because of how sore you become, you can simply relish the joys of gardening.
If you are experiencing back pain, contact Dr. Dan Albright at 919-863-6808.