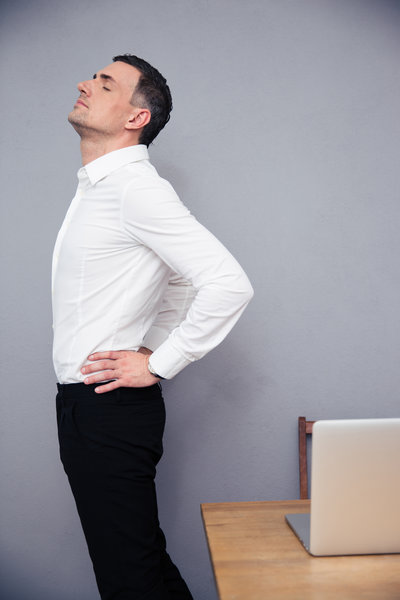 A herniated disc is a common problem for the aging population, but what exactly does this term mean and does it require surgery? Let's start with some general anatomy. The backbone or spinal column runs down the center of the back starting at the base of the brain and connects to the pelvic bones. It is the central part of the skeleton that provides support to the body. The spinal column is made up of a series of connected bones called vertebrae that allows for flexibility and movement in the body. The vertebrae also protect the spinal cord which is vital to the central nervous system.
Tough connective tissues hold the vertebrae together. Donut-shaped Gel-like discs are between the vertebrae to cushion movement and protect the vertebrae from wear. The discs act as the shock absorbers to withstand any bump or shaky movements without causing any harm to the spinal column.
A disc can rupture due to an injury or the disc wearing out due to aging. When a disc ruptures and the gel leaks out, the cushioning effect is lost. The vertebrae rub against each other often pinching a nerve in between them. This pinched nerve causes pain. Sometimes the leaked gel is creating the pressure on the nerve causing pain. Nerve pain is not only felt in the area of the injury but will also radiate down an arm or leg along the path of the irritated nerve. This condition is called a herniated disc, ruptured disc or slipped disc.
Not every herniated disc creates painful symptoms. If the leaked gel is not in contact with a nerve or no nerve is being pinched, there may not be any pain. Even if pain is present, the first options of treatment are non-surgical including exercise, physical therapy, chiropractics, and pain medication. Only after weeks or months of ineffective non-surgical treatment, will surgery be offered as a solution.
There is no hard and fast rule about when surgery will be required. Indeed, if the patient is in extreme pain that has not been alleviated with non-surgical methods surgery will be considered, but surgery is risky and does not always solve the problem. Surgery is better at relieving leg pain and less effective at easing back pain.
Two types of surgery are performed for herniated discs: spinal fusion and disc replacement. Spinal fusion is the most common surgery for herniated discs. In this surgery, the damaged disc is removed, and replaced with a spacer between the vertebrae, Then two or more vertebrae are connected using rods, screws, wires and plates. The result is the easing of pain by removing the pressure off the nerve, but the patient loses flexibility in the vertebrae that are now connected or "fused" together.
For more information, contact Dr. Dan Albright at 919-863-6808.